The Power of Data Analytics in Financial Services
Learn about the benefits and some of the latest applications of data analytics in financial services.
As a financial services provider, you're there for some of the biggest moments in your customers' financial journey. From a teenager's first job to a student's loan to a couple's deposit on their home together, your brand is there all along the way, helping from behind the scenes.
Now, what if you could make those major life changes even better?
By harnessing the power of predictive analytics, you can start to anticipate your clients' expectations before they ever even arise, providing them with the support and services they need most. Almost sounds like magic, right? Well, the good news is that all you'll need is a little data science. 
Defining financial data and its sources

Let's take a step back: When we refer to the financial services industry, we're talking about everything from insurance and money management to payments and digital banking technology. The market is a massive one — but so are the opportunities within it.
Financial data comes in all shapes and sizes, but generally, we can sort each type across three major categories: 
Customer: From the first touchpoint to their long-standing transactions with your company, a customer will produce a huge amount of data that tells the story of their experience with your brand. Armed with this information, you can start to predict consumer behavior and respond in real time.
External: While you may not have direct access to competitor data, your company can put market research and competitive analysis to good use. Just one example includes identifying underserved consumers who you may be able to align with.
Internal: Past performance metrics such as your Net Promoter Score will help give your team better insight into whether changes are working as well as opportunities to further improve your strategic position.

However, data is only as helpful as the insights it inspires. It can provide clarity into exactly how your marketing efforts translate into results, providing your team with intuitive dashboards and clear next steps. But, that's only if the information being fed into your database is valid. That means your first step will be ensuring that your numbers are "good" by creating and implementing a data cleansing strategy. Once you've done that, the real fun begins.
Why now?
The finance industry still has significant room to grow when it comes to data. Although 90% of leaders have shared that their organization is starting to prioritize data and digital transformation efforts, Statista has reported that only 34% have begun to fully implement these initiatives. 
Wait a second. If leaders have recognized the data is important, what's the hold up? In such a highly regulated market, innovation can often take a back seat to remaining compliant to industry-specific standards. However, three major forces for change have suddenly put innovation initiatives into high gear:
The rise of big data: Financial service providers now have the ability to process a massive amount of complex data sets, all of which can be used to generate customer insights.

Consumer expectations: Personalization and real-time support have become two of the most important drivers of the customer experience.

An uptick in competition: New market entries and rapidly evolving technology have created a competitive landscape unlike any other — more on that shortly.
When we consider the landscape of the financial services industry in its entirety, some major opportunities are on the horizon. The global financial services market is expected to grow from $20,490.5 billion in 2020 to $28,529 billion in 2025 at a compound annual growth rate of about 10%, according to a report by Research and Markets. As more niche fintech companies continue to emerge, existing providers are looking for new ways to inspire innovation and better support customers.
Translation? There's never been a better — or more exciting — time to explore the power of data analytics in financial services. 
Understanding how data is already being used in the financial sector
Although most financial service providers are early on in their digital transformation, there are some financial industry leaders who are already unlocking the power of data analytics. 
Let's dive into some use cases already in play:
 
1. Personalizing the customer experience
No one likes receiving ads that aren't relevant to them. To make ads seem more relevant to your audience, you'll use personalization. In the world of financial services, personalization is all about delivering a valuable service or product to a customer based on their own experiences.
Advanced data analytics allow you to now segment your clients based on their interests, previous customer behavior and current life stage. Using this data, you can develop products and marketing materials designed specifically for your customers' needs. For a potential client, this could include using machine learning to better understand which products to recommend and even the best channels to promote them on.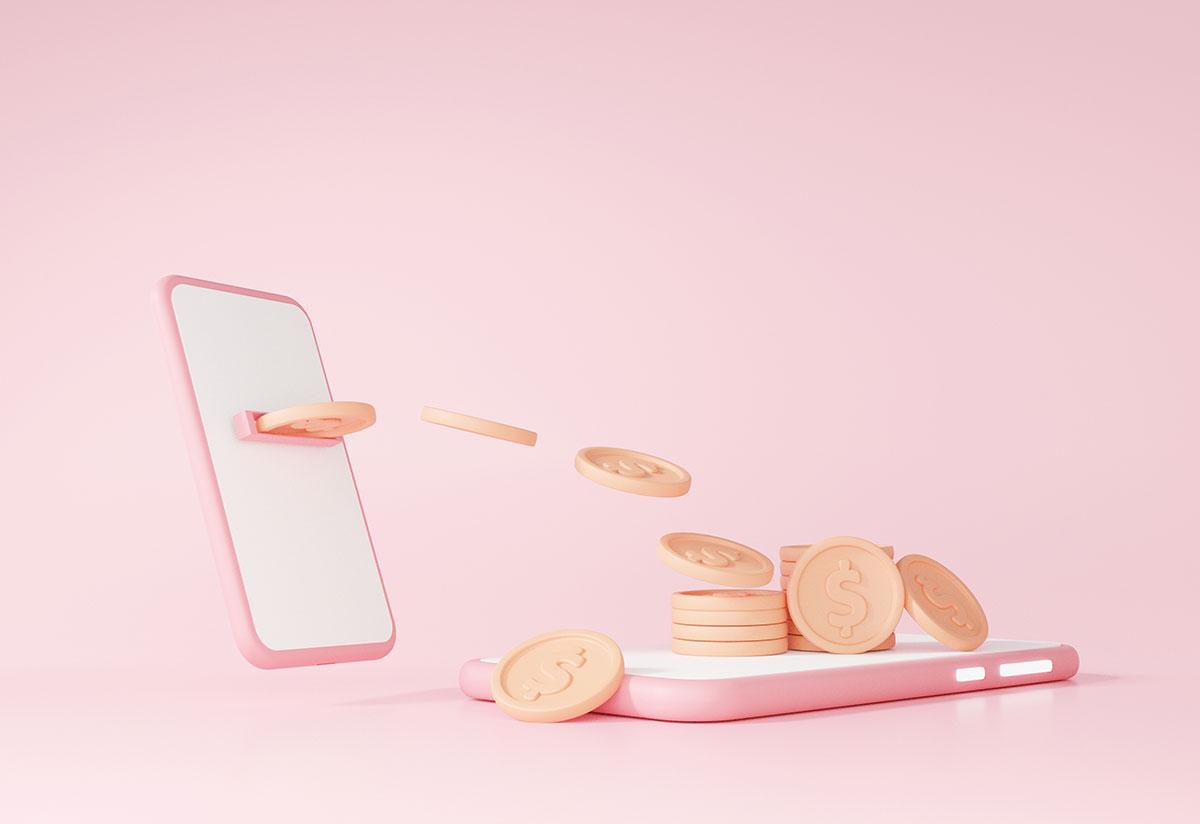 2. Improving risk management and fraud prevention
Every organization has to consider the possibility of fraud — for financial institutions, the risk is especially high. By using data science and predictive modeling tools, teams can analyze real-time customer data with an even higher degree of accuracy.
Machine learning and artificial intelligence can be used to automatically trigger protocols based on specific conditions, minimizing the strain on risk teams as well as your resources. Plus, by reducing your own risk, you're also passing along the benefits to customers. 
Estimates from the FBI put the total cost of insurance fraud at more than $40 billion per year. This results in the average U.S. family can expect paying anywhere between $400 and $700 per year in the form of increased premiums. From a marketing standpoint, this can have a serious positive impact on your overall brand reputation.
 
3. Planning for the future
If the past two years have shown us anything, it's that you can never be too certain of what the future holds. Predictive modeling tools can help your marketing team as well as your entire organization plan for a variety of different situations, empowering you to better anticipate clients' needs and develop appropriate solutions before they ever arise.
When you put these use cases together, providers are already seeing some powerful benefits such as:
Stronger engagement and conversion rates.

Improved customer loyalty and long-term retention.

Higher returns on digital investments.

So, what does that data management we mentioned earlier have to do with all of this?
In order to start your company's journey to becoming a customer-first brand, you need the right information. Otherwise, the analytics you run will start getting clogged up with inaccurate or irrelevant data that makes it more difficult — if not impossible — to get meaningful insights about your clients.

Your team of marketers already has the industry expertise and know-how to get the ball rolling. All you need now is a little bit of strategy. 
Applying analytics solutions: Where to start
You don't know what you don't know. The first step in your journey toward becoming a (financial) data science pro will be mapping out where your current digital environment stands compared to where you need it to be. From there, you can start defining specific stages and solutions that'll help your team reach your long-term goals. 
If that sounds like a major undertaking, we get it. Fortunately, you don't have to go it alone. One possibility is to start your data journey with a digital consultant. By working with an expert partner, you benefit from end-to-end support including:
Strategic plan: Look for a digital consultant who has worked with clients like you in the past. Their experience with technology and data science paired with your team's industry expertise will help you generate the right plan for your organization's specific needs.
Technology recommendations: As a marketer, your goal is to find new ways to delight and engage your customers — so why are you stuck reading endless software reviews? A consultant can help define your exact goals and recommend the solutions that will get you there.
End-user support: From set up to day-to-day support, the right partner will empower teams to better understand and engage with data, ensuring you're getting your full return on your technology. 
Just remember: Every organization's experience with data will look a little different. A digital transformation isn't a week- or even month-long process. Working with a partner to gradually roll out a new data initiative can help you keep your team on the same page, all while uncovering new efficiencies and opportunities. 
Working with an advanced analytics partner
Getting valuable insights out from data analytics may seem daunting. At GeekHive, we have the advanced analytics and data expertise to help you along your journey. 
From creating and implementing your master data management strategy to finding the right tools for your organization, our end-to-end services can help ensure your data is hard at work. With personalization and data analytics on your side, there's nothing stopping your marketing team from developing the next big financial services campaign.
Schedule a call with us today and together we'll create a data strategy that supports your organization all while uncovering innovative value for your clients.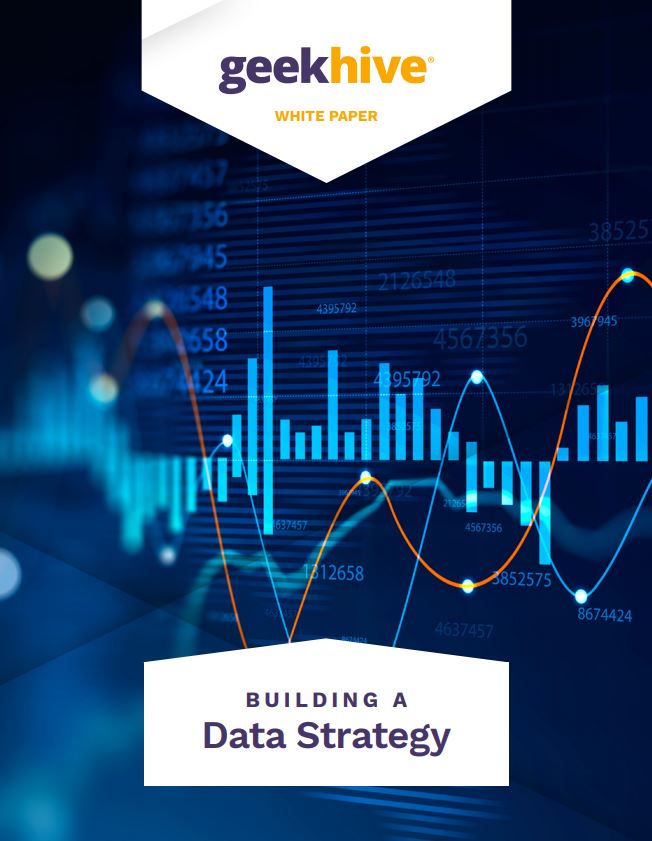 White Paper: Building A Data Strategy
Thoughtful consideration of how data strategy aligns with business, marketing and technology goals is key to making it work for you. Strategy is about exploring opportunities, and then breaking them down into more manageable pieces. Applying people, processes, and technologies to those possibilities makes them come to life.