Sitecore + Data Enablement for the Win

Aruba Bank: Putting Martech Tools To Work
Aruba Bank is the island's largest commercial bank serving the Aruban community since 1925. They provide a wide range of personal, business, platinum, international banking, and insurance services. As all banks currently offer similar products and services, Aruba Bank sought to differentiate themselves by offering a superior customer experience.
The Problem
Aruba Bank's marketing team wanted to get more out of their Sitecore CMS, and prioritize marketing technology initiatives, including Data, Analytics & Reporting, Marketing Automation, and Voice of Customer (VoC). They relied on their IT teams and manual interventions to access basic campaign and customer data, creating a lot of frustration. Waiting in tech support queues for simple answers could cost weeks or months of optimization time for Marketing, and was an unprofitable diversion of Tech staff resources.
Needs Identified by the Aruba Bank Team:
▶ Understand the existing and available customer data set.
▶ Leverage the data for growth initiatives.
▶ Capture customer feedback to better understand the customer and design ideal customer experiences (CX).
▶ Design, automate, and deliver personalized marketing communication across web, mobile, app, email, and social media channels.
The right solution would optimize customer experiences, and maximize Marketing's impact, by putting the customer at the center of the bank's operations. The right allocation of time and resources could be invested in the right departments, to deliver personalized, relevant journeys at the right time.
The Solution
Aruba Bank's website was rebuilt using Sitecore CMS. We walked stakeholders through every stage of the process so they could continue to optimize the site on their own after our engagement.
Tech and Marketing efforts were prioritized accordingly, allowing both departments to own their respective data and analytics, delivering ROI consistently to the bank as a whole. 
A Data Enablement project was also initiated, with four core initiatives that built upon each other: 
1. Understand the existing customer data in Aruba Bank's technology stack, and how that data is used.
2. Track the performance of Aruba Bank's Sales and Marketing efforts.
3. Create a 360° view of the customer to measure and optimize the customer experience, using data-driven analysis.
4. Maximize impact to, and support ongoing efforts with Sales, Customer Service, Risk, and IT teams.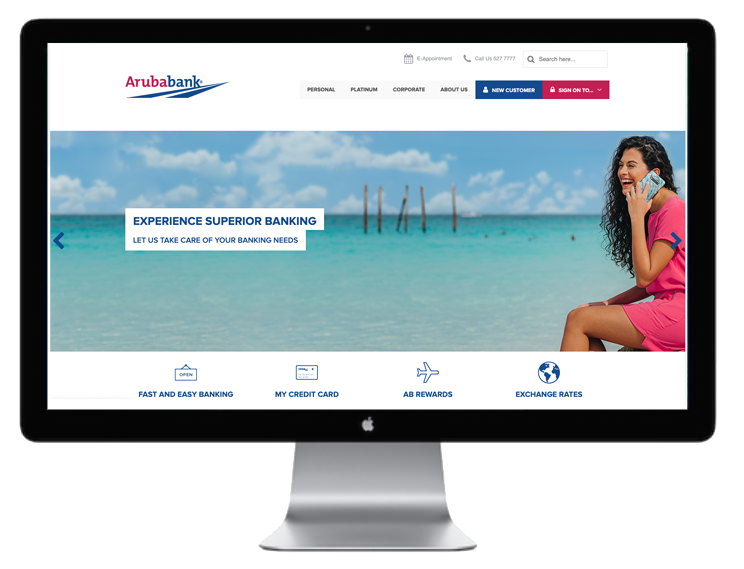 Outcome
Completing the four Data Enablement initiatives for the bank maximized data accuracy across marketing technology platforms, giving them a reporting framework that supports all teams across Aruba Bank. As more consumers turn to digital banking, Aruba Bank is prepared to accurately track those many digital interactions.

Personalized sales and service campaigns are served based upon unified, reliable data and analytics, providing outstanding customer experiences on every channel.
1
CMS AND CUSTOMER EXPERIENCE
50+
NPS SCORE (INDUSTRY AVG. 34)
360°
SHARED CUSTOMER DATA VIEW
Conclusion
This project was a collaborative effort between Marketing, Sales, IT, and beyond. Uniting processes and optimization between formerly siloed teams allowed Aruba Bank to effectively offer an exceptional end-to-end customer experience, utilizing accurate data from key marketing touchpoints. Leaders across all departments now have insight into data and its flow across the entire organization.
The Aruba Bank team plans to share their insights and successful Data Enablement process with future locations.
We wanted to understand how far we are on our digital journey, the digital readiness of our workforce, to help drive us towards a more collaborative culture with a greater understanding of everyone's responsibility in our transformation, organization-wide. GeekHive was key to helping us achieve that.