9 Essential Features For Every Virtual Collaboration Tool
As companies fully transition to online operations and remote work, virtual collaboration software has become must-have tools.
As companies fully transition to online operations and teams shift to remote work environments, virtual collaboration software has become a must-have tool for organizations of all sizes. In order to keep business running as usual, remote employees need access to cloud-based platforms that can enable collaboration, support project workflows, and facilitate communication throughout all levels of the organization.
Yet, with so many products on the market, each with their own list of enticing features, how can you determine which tool will meet the needs of your organization?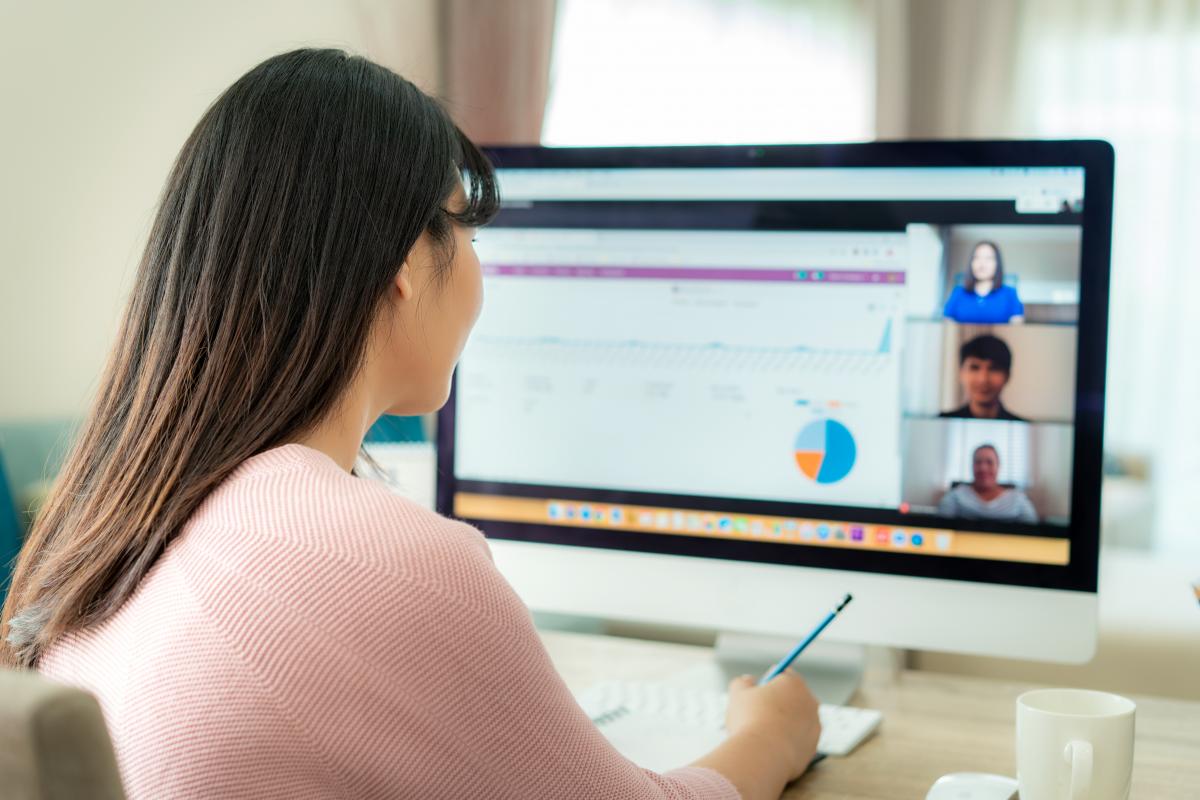 Based on our experience utilizing various forms of virtual collaboration tools -- both for own internal purposes and when helping our clients implement and effectively utilize theirs -- we've compiled a list of 9 features that should be included in your toolkit of virtual collaboration software:
1. Cloud-Based File Storage
Marketers should have a go-to location where they can reliably access completed files -- everything from final content and master PDFs to ready-to-use creative assets. A cloud-based space dedicated to file storage can help remote team members quickly retrieve the materials they need to publish online, send through marketing campaigns, or forward along to sales and support teams. 
Companies that incorporate G Suite products, such as Gmail and Google Docs, into their day-to-day operations often rely on Google Drive for shared file access and document management within and across teams. When using Google file types (i.e. Google Docs, Google Sheets, Google Slides, etc.) users can simultaneously access and edit shared documents in real-time, with their changes automatically saved in the cloud.
These types of cloud-based collaboration "spaces" can facilitate team productivity by giving users shared access to files of various types within a common digital location.
2. Cross-Functional Collaboration
Marketing teams can also use these tools to support their cross-departmental tasks across the organization.
With the ability to easily send and share documents through cloud-based software, marketers can streamline the distribution of their content and collateral with sales and service teams. Files can be uploaded, organized, and shared in just a few clicks, with numerous users able to collaborate within these documents at the same time. Certain tools also allow users to adjust permission settings to "view only" or "enable editing" on files and folders as needed, in order to preserve the integrity of finalized documents.
Marketing and sales teams that spend much of their time using Salesforce software might also choose Quip as a virtual collaboration tool. Similar to Google Docs, Quip provides a cloud-based workspace for team members to collaborate on shared documents in real-time, with the added bonus of being able to integrate with Salesforce CRM. When these systems are connected, marketing and sales users can cross-functionally collaborate within Quip to edit documents and add comments.
Sales team members can even create standardized templates and attach files to Salesforce records while staying within Salesforce CRM, where they have access to Quip file types and features. By removing the need to toggle between programs to find and access information, virtual collaboration tools can foster communication among colleagues and across teams.
3. Internal Messaging 
Platforms that have built-in messaging features can help to keep the communication related to a particular project within one place. The ability to converse within cloud-based software can improve project workflow cycles since comments on tasks are readily seen and recorded in real-time. Without having to search through email threads to track down responses or pieces of information, users can reference the conversation held within the platform.
These in-platform conversation threads help team members easily provide feedback, request revisions, and send approvals to each other. Most tools with this functionality also give users the ability to attach files within comments to further support and connect virtual teams via technology.
Online software with internal messaging features can greatly support remote collaboration cross-functionally and even company-wide. Jira, for example, is a project management tool widely implemented by development (IT) and marketing teams alike. When software is adopted by multiple teams across the organization, employees can productively focus their time and energy in communicating and collaborating within the platform, as opposed to spending time sorting through email messages. 
Our Thinking
4. External Notifications
Marketing technology stacks usually contain numerous platforms that serve different purposes,  each with their own list of tasks and to-dos. Tracking comments and checking due dates for tasks across software can become a job in and of itself, wasting valuable time that could be better spent elsewhere.
External notifications can solve this problem by alerting users of recent modifications made to tasks. These notifications are triggered by actions taken within the platform, so that users can become aware of changes being made or steps being completed without having to log into the platform. These notifications could include everything from newly-entered comments and status changes to requests for approval, and even reminders for upcoming deadlines or overdue tasks. Platforms with this feature tend to give users some control over their personal notification settings, with the ability to select the alerts that they would like to receive and those that they would prefer to turn off. 
While virtual software programs typically send these notifications via email, some even offer the option to post updates and alerts in Slack, or other inter-company communication software. Team members who can utilize these tools to keep their attention on the project at-hand, can remain focused and productive without the distraction of email inboxes or the need to open up new browser windows.
5. Calendar Views
Since marketing campaigns often revolve around specific timelines, with tasks assigned to certain dates, project management tools that can offer easy-to-read calendars of project workflows and deadlines are especially helpful to marketing teams. Some platforms, like Flow, provide multiple viewing options so that users can select the type of calendar format that most appeals to them.
These formats can vary from list views that sort to-do items in chronological order, to monthly or weekly calendar views that display tasks by date, and might also include Gannt chart views that let users see how tasks overlap and relate to each other. With greater visibility into the full scope of the campaign, from initiation to completion, marketing teams can use these insights to plan, schedule, and adjust tasks to support their objectives. 
6. Security Features
While focused on enabling team collaboration and communication with online technology, we cannot forget the importance of data protection and security. Companies should be taking measures to ensure that their remote teams are properly equipped with the tools needed to preserve confidential information, secure devices, protect customer data, and abide by security regulations. While some free versions of virtual collaboration tools may offer less protection than enterprise models, all forms of software should require logins and passwords to protect the data and information shared on the platform. 
More advanced software may even offer multi-factor authentication (MFA) to verify the user, in order to prevent password thefts and other forms of security breaches. MFA is often seen as two-step verification and typically requires users to provide a password and/or PIN number along with another form of user identification when setting up their account. This additional identification step could ask the user to answer a set of user-specific question prompts or even provide a sample of their digital fingerprint sample. Whatever form these identification steps take, they are intended to confirm the user's identity whenever they login as an extra authentication step beyond the standard password.
7. Mobile-Friendly Design
Whether or not remote employees typically stay at stationary workspaces throughout the day, virtual collaboration tools should be able to function properly on smartphones and other mobile devices. Teams should be prepared to handle dynamic work environments, with the ability to switch to mobile devices if needed. Virtual platforms that are available via mobile app or feature responsive design give employees the option to work from multiple devices, where they can view multiple screens at once. This ability may particularly benefit those employees who do not have access to two or more monitors in their remote workspace.
Mobile-compatible software can also prove advantageous at times when internet connections are interrupted or impaired. In these instances, users can use their smartphones or tablets to connect to their mobile network and continue working until internet access is restored.
8. Intuitive Interface
Even if you have vetted a product whose feature set checks all of the above boxes, it can still be deemed worthless if it is not user-friendly for your team members. While some marketing teams are already familiar with the more technical UI of project management software commonly used by IT teams, others may be more comfortable with platforms that enhance task flow visualization.

Trello, for example, provides high-level visibility into campaign workflows, in which users can collaborate within a project "board" and create a "card" for every task that moves across the board, with drag-and-drop functionality, towards completion. Basecamp also provides a unique take on project management visualization that might appeal to marketers who enjoy the thrill of checking off items on a to-do list. The checklist-inspired design of this platform lets users manage, prioritize, and cross out tasks as they are completed.
Most virtual collaboration platforms--especially those geared towards marketing teams--are easy to use right out-of-the-box and some even offer additional bonus features that can enhance and personalize the user experience of the tool.

Certain platforms, such as Wrike, give users the option to customize their own digital dashboards, so that prioritized datasets are readily available as soon as they log into the site. By displaying and arranging items on their personal dashboards, each user can display data according to their individual preference and bring important tasks and useful information to the forefront, so that they are kept top-of-mind. 
9. Integration Opportunities
Adding one more piece of software to your marketing technology stack inevitably begs the question, "Can this new tool integrate with any of our other platforms?" Cloud-based software, especially virtual collaboration tools, should have the ability to sync with other marketing technologies, in order to better support your marketing efforts.

Whether integration is made possible via API connection or through back-end development with the help of a technical partner, most online collaboration software are flexible enough to connect with other marketing technology platforms. However, when reviewing new types of software, make sure that the platform you select at least has the potential to integrate with the tools that you already have in your martech stack. 
Seeing the increasing need for virtual collaboration, platforms like monday.com are suddenly introducing new integration opportunities with video-conferencing software and other types of advanced collaboration tools. When combined with video conferencing software, such as Zoom or Google Hangouts, cloud-based collaboration tools can help mimic the elements of a communal workspace by bringing teams and technology together within a virtual environment.

With these tools, teammates can continue to work together and communicate effectively, just in a different mode: virtual rather than physical. Companies can operate without disruption and still seek to achieve high levels of performance, even when their employees are working from opposite ends of the world.
Whatever virtual collaboration you end up selecting, let us know if you need help integrating this piece of software into your marketing technology stack. We can help!