How do I get important information to my website visitors?
Bringing Health Awareness to Californians with a Modular CMS
The California HealthCare Foundation (CHCF) strives to fulfill the promise of providing quality healthcare for all Californians. The grant-making philanthropic organization supports ideas and innovations that improve quality, increase efficiency, and lower the costs of healthcare. The nonprofit delivers this helpful information online at CHCF.org.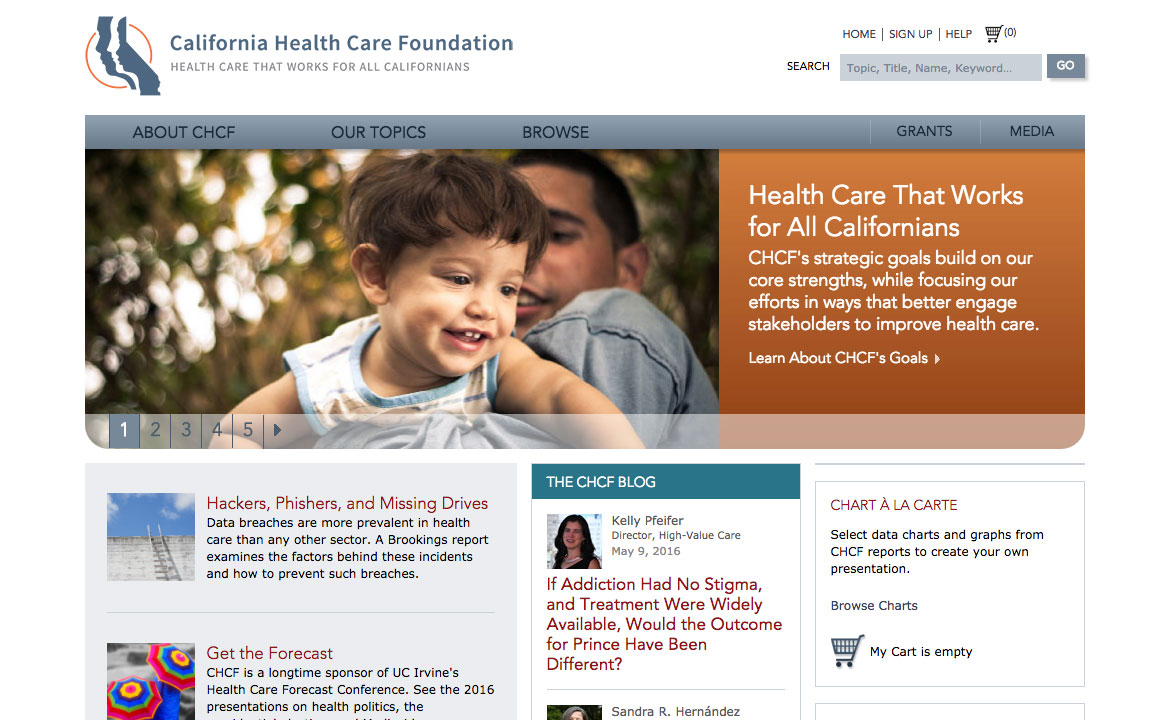 Challenge
The Foundation needed a more engaging online gathering place for grantees and a better way to deliver their large library of content and information through multiple marketing channels in a synchronized and automated fashion. CHCF administrators wanted to simplify entry of content and be able to group it in such a way that they could repurpose large and small modules of information. This syncing of information would then support multiple touch points for the "Ideas and Innovations" messages provided by CHCF to site users and grantees.
Engaging new graphics, new site architecture and new user interface created in conjunction with agency partner Project6 Design was a first step for the site redesign.
Solution
Our team recommended the implementation of Sitecore's comprehensive CMS for the build due to its sophisticated content management and robust customer relationship attributes. In particular, Sitecore's modular attributes allowed for creating the necessary distinct content blocks and charts so that web pages could be truly unique yet use building blocks and share content in a variety of ways. A site visitor can now choose from a multitude of charts and blocks of information and put them into a "cart" for further use in a system referred to as a "chart cart". A website visitor can also choose their area of interest and automatically receive newsletter emails on their chosen topic. The website visitor information along with their area of interest can be managed in Sitecore along with the topics/content itself.
In order to promote better communication of relevant information a fully integrated email marketing system was developed and delivered on top of the flexible Sitecore platform.. GeekHive integrated all the necessary tools for managing the email campaigns as well as the content modules right into the Sitecore control panel. Sitecore's intuitive and familiar framework creates a user-friendly control panel for administers to use.
Synched content now automatically fills into four places within the CHCF online environment from directly within the CHCF control panel:
On the homepage as a 6 snapshots featured within a rotating carousel and within an overflow section

Onto specific landing pages as fully featured/expanded topics

In the newsletters themselves which are triggered by an integration with a list manager

On a specific web location (non public-facing) which archives each newsletter
Additional improvements included the integration with a next-generation approach to enterprise search provided by Coveo search solutions. Coveo technology was integrated into the site allowing for customized configurations and connecting and indexing information right from the Sitecore content tree.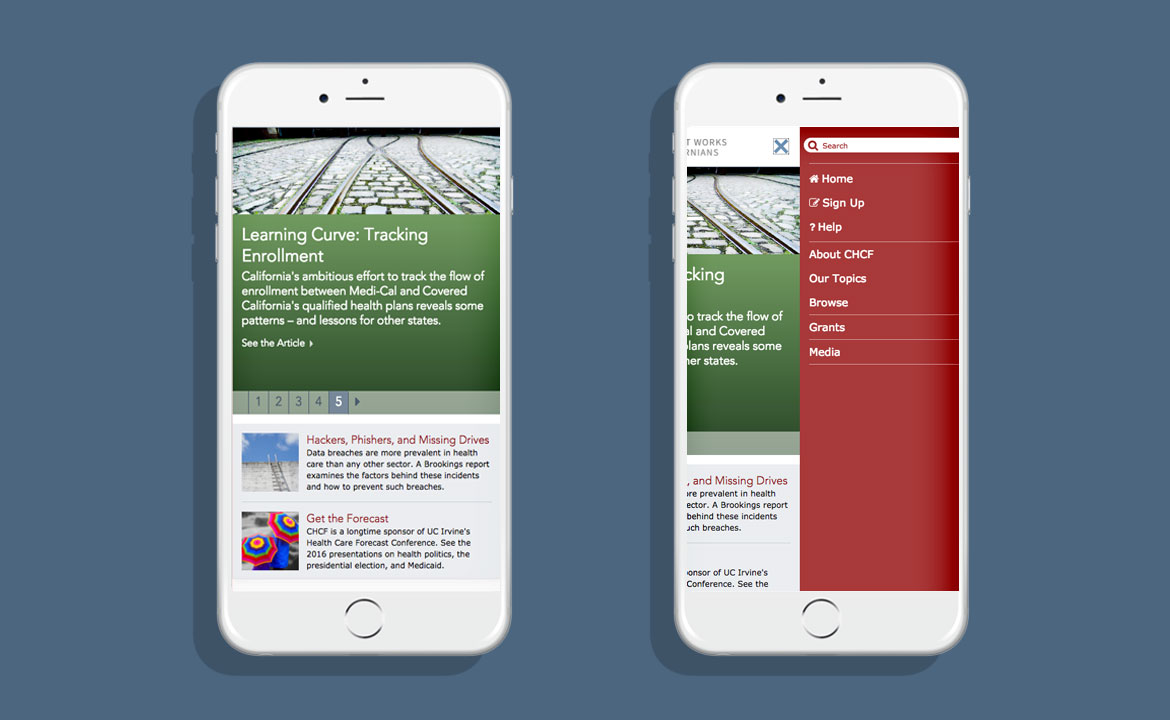 Results
The successful project earned California Healthcare Foundation and GeekHive the coveted Sitecore Site of the Year Award in the healthcare category.
Working with Geekhive for over 10 years I can tell you the most impressive thing about the company is their keen ability to identify and hire some of the most knowledgeable, skillful and personable technology talent in the industry. I have no doubt that all the successful work we have done together over the years was possible and enhanced greatly by working with such a fine team of people.