12 Tips on Staying Focused While Working From Home
With the evolving state of the coronavirus (COVID-19) pandemic within the United States, many businesses are requesting that their employees self-quarantine and work from home as a precautionary measure to help contain the outbreak. 
However, the idea of working from home may pose anxiety, especially if you're worried about your productivity. But fear not! Here are some tips to staying calm and focused, should your employer ask you to telecommute for a couple of weeks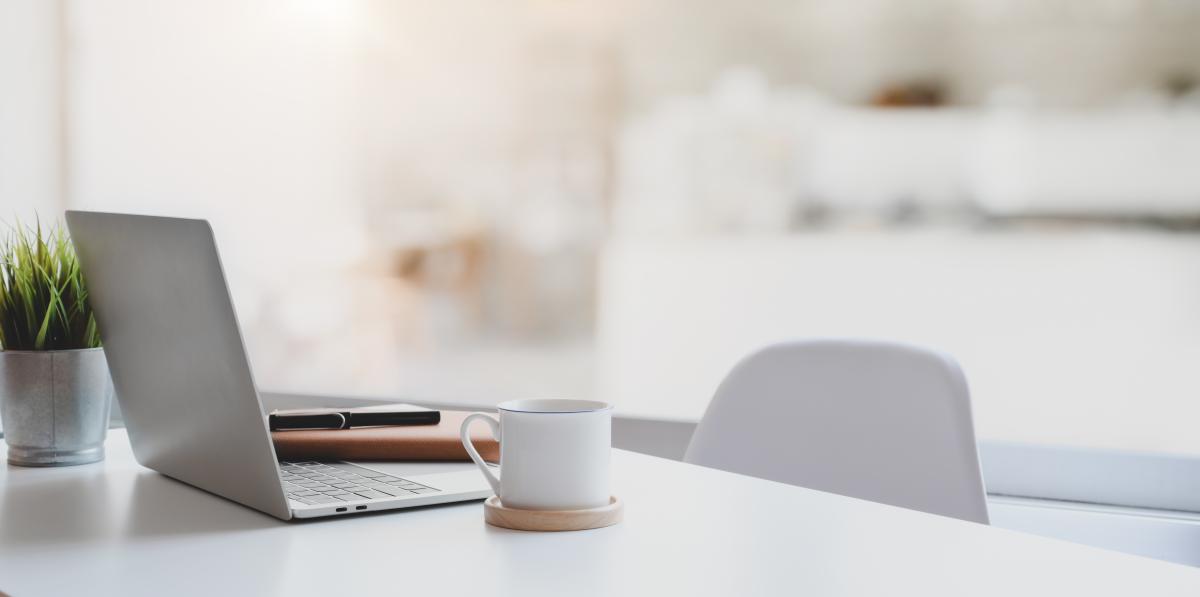 1. Maintain a consistent morning routine
Try to stick to your regular schedule as much as possible. The last thing you want to do is fall out of your regular sleep schedule, which will make it difficult to get back into the swing of your normal routine. Take advantage of the extra time to sleep in, but don't go overboard. Shower, get dressed, and eat breakfast at the times that you normally would for a more seamless transition.
2. Designate a specific workspace
Having a consistent place to do your work helps to establish routine and puts you in the headspace of "going" to work. Choose a quiet area where you can stay focused with minimal distractions. I would suggest finding a workspace outside of the bedroom, so that you can separate your work life from your personal life and "escape" at the end of the work day. 
Now that you are working remotely, you may also need to frequently jump onto conference calls or join video meetings throughout the day. Consider the surroundings of your workspace and move items around as needed, in order to create a professional backdrop that can be  viewed by clients and colleagues during a virtual meeting. 
3. Dress for the workday
Get dressed in the morning to help you transition out of sleep-mode and into work-mode. If you stay in your pajamas or loungewear, you will have a much harder time feeling motivated to do much of anything.
4. Set micro-goals throughout the day
A lot of people worry about staying focused when working from home. Set hourly or bi-hourly goals to keep yourself on-task and decrease the temptation to do chores or watch YouTube instead of getting your work done. You can keep track of your daily tasks with sticky notes, which you can crumple up and toss out when the task is complete.
5. Make the most of your downtime
Use the time that you would usually spend on commuting to run errands or take care of chores. You can also run a couple of quick errands during your lunch break to maximize the day. Adding this time back into your schedule frees up your weekend to take up a hobby, catch up on TV shows, catch up with family and friends, or do any other activity that you enjoy.
6. Place your back toward any distractions
Place your back toward any distractions If it's out of sight, it's out of mind. Keep your work space away from the TV and any windows that could redirect your attention. Focusing on the tasks in front of you, instead of every passing hour, will not only help boost your productivity but can make the work day feel as though it is going by much faster. 
Ask friends and family to refrain from texting and calling during work hours. If you're prone to distraction, put your phone on silent and place it out of sight, so that you can set your work priorities above all else. Tell your friends that you cannot be reached during working hours but will be available at the end of the workday. And if you do need to take a call, try to schedule it ahead of time and set a calendar invite to let your coworkers know that you'll be offline for a short while.
7. Take small breaks
Get up and stretch throughout the day just like you should while in the office. It's essential to take short breaks during the work day, so that you don't feel the physical stress of sitting in one place. Stand up, walk away from your desk, and give your eyes some relief from the glare of the screen every now and then. And remember to take your breaks away from where you work, so you're not tempted to keep working.
8. Surround your work area with things that make you happy
The energy of your workspace can keep you in a motivated and positive mindset. Place items that give off a good vibe within eyeshot of your work area, whether they be photographs, tchotchkes, you name it!  Hey, you're home. Why not buy yourself some fresh-cut flowers?
9. Set up a fantastic playlist
Depending on where you live, you'd be surprised by how many noisy distractions there are outside—especially in a big city. Invest in a good pair of headphones that will help to drown out noisy construction, delivery trucks, neighbors, etc. You can listen to music, podcasts, XM radio, or even create your own playlist to keep you focused on your work instead of your surroundings.
10. Plan your lunch the night before
If you wait until the last minute to think about what you're going to eat for lunch, you'll likely be tempted to eat take-out. Take advantage of your ability to work remotely--while saving money--by buying groceries and making your lunch at home. Or, use a food delivery service, like Freshly, that can prep your meals in advance, so that you just have to heat and eat! You can even check for special online deals in your food delivery apps, such as Seamless or GrubHub, especially during pandemic closures.
11. Hygiene still matters — wash your hands!
Working from home is not an excuse to skip out on washing your hands with soap and water for at least 20 seconds. Wipe your computer keyboard, mouse, and phone down with disinfecting agents (at least 60% alcohol or wet wipes) and wash your hands before meals to take extra precaution during this unsettling pandemic. Note: don't submerge or douse your devices with too much liquid, or you'll risk damaging them!
12. Shut down at the end of the workday
The need to drive or take public transportation home can act as a motivator to pack up at the end of the day. But without the need to commute or  go anywhere come 5 PM, it's easy to keep working until 9 PM. However, you'll be no good to anyone if you burn yourself out. Set a timer for the end of the workday and mentally clock out! Take advantage of the evening hours to decompress and recharge.