Building a Customer Experience Strategy
Move at the Speed of Your Customer
Having a customer experience strategy means you're prepared to continuously move at the speed of the customer so they want to engage with your brand again and again.
But what is a customer experience strategy, and how do you put it into practice? In this white paper, you'll learn about the steps to take to create a customer experience strategy that is clearly understood throughout the organization, and actionable.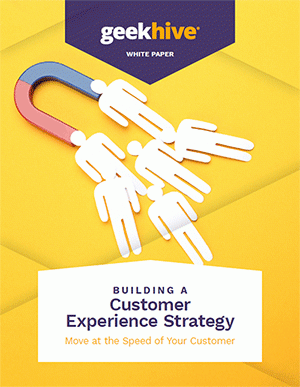 About GeekHive
We are a Marketing Technology Consultancy focused on helping our clients get more out of their marketing technology investments. We connect your brand, your technology, and your customers through transformative solutions driven by your business objectives.