Learn the Secrets to Unlock the Power of Sitecore
Have you invested in any of Sitecore's powerful Experience Cloud components? Are you upgrading from an earlier version of Sitecore? Or, are you new to digital experience platforms (DXP) and evaluating Sitecore Experience Cloud offerings for the first time? 

Whether you are a new, existing, or prospective Sitecore customer, you need a Sitecore strategy in place to maximize your Sitecore investment. 
Download Our Whitepaper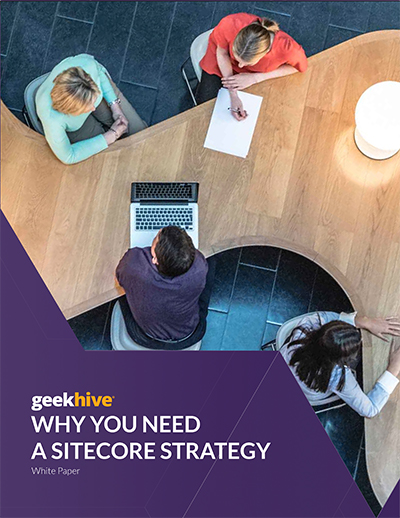 As abstract as the idea of a Sitecore strategy might seem, the value of understanding the "what, why, and how" of choosing, using, and managing Sitecore before plunking down your money, writing a line of code, or developing a sentence of content is priceless.
Authored by GeekHive's Chief Strategy Officer, Gene De Libero, this white paper contains keen insights that have formed over a 30-year career as a digital innovator with a passion for leadership, change management, digital transformation, customer experience (CX), digital strategy, digital marketing, marketing technology, and business development/sales.
About GeekHive
We are a Marketing Technology Consultancy focused on helping our clients get more out of their marketing technology investments. We connect your brand, your technology, and your customers through transformative solutions driven by your business objectives.