Learn the Secrets to Unlock the Power of Sitecore
CMOs and their teams are unlocking the power of the Sitecore Experience Platform. Learn their secrets.
In this white paper, Sitecore MVP and GeekHive's Chief Strategy Officer, Gene De Libero, shares the secret to unlocking the power of one of the most effective digital experience platforms (DXP) in the world, the Sitecore Experience Platform.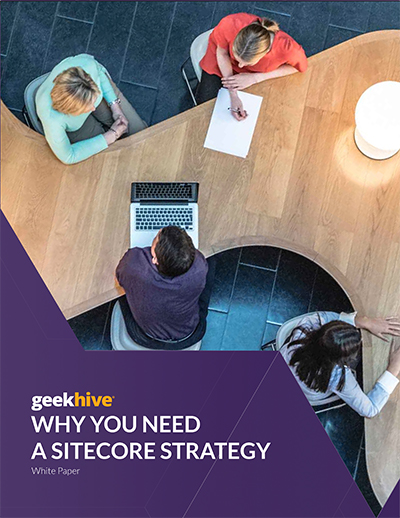 Are you getting the results you expected from your Sitecore Experience Platform investment?
You Need a Sitecore Strategy.
Have you invested in any of Sitecore's powerful Experience Cloud components? Are you upgrading from an earlier version of Sitecore? Or, are you new to digital experience platforms (DXP) and evaluating Sitecore Experience Cloud offerings for the first time? 

Whether you are a new, existing, or prospective Sitecore customer, you need a Sitecore strategy in place to maximize your Sitecore investment. Download the Why You Need a Sitecore Strategy white paper to learn: 
What you need to know about a Sitecore strategy

The key to building an effective marketing technology stack

Important strategic considerations that guide the selection, use, and management of Sitecore
About GeekHive
We are a Marketing Technology Consultancy focused on helping our clients get more out of their marketing technology investments. We connect your brand, your technology, and your customers through transformative solutions driven by your business objectives.