How do I improve the employee experience?

Comcast
As one of the largest broadcasting and cable companies in the world, Comcast required a global intranet solution with modern web capabilities that could better serve and engage its 150K employees.

After assessing the entire internal digital footprint of the conglomerate, GeekHive developed the content approach, technical strategy, and marketing plan of a scalable roadmap for Comcast to ultimately create an appealing and engaging corporate intranet. The end result provided employees with a personalized digital experience, resembling an app store, that was designed to make important information and useful tools readily accessible while boosting employee engagement.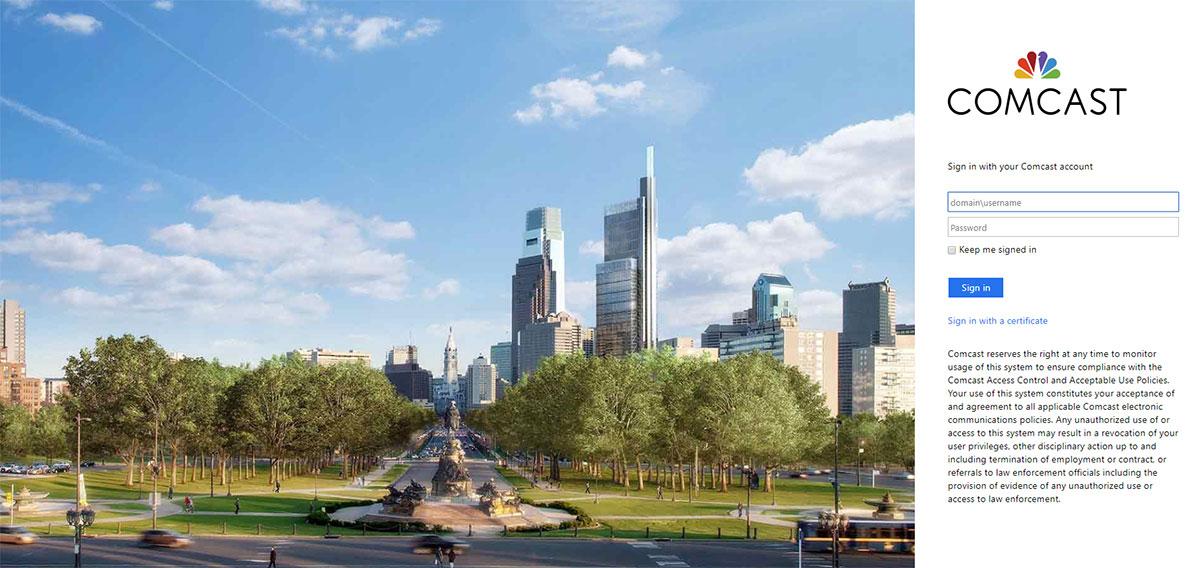 Challenge
Comcast sought to answer the question:
How do we give our employees the ability to easily find useful, important, and relevant information about our company?
Comcast wanted to create a welcoming environment where employees would be able to feel supported, share their voice, and be excited to come to work everyday. The company also wanted to streamline the employee onboarding process and enable social media engagement features, such as liking, favoring, and sharing, so that employees could easily discover content and even interact with each other.
Strategy
Ready to improve its internal user experience, Comcast embraced that same sense of innovation that has inspired some of the most groundbreaking broadcasting technologies and media experiences in the world. GeekHive vetted various platforms that would be capable of supporting the vision Comcast had in mind for its intranet, and ultimately landed on Sitecore. At Comcast, employees also had institutional knowledge of Sitecore as a flexible and intuitive content management system (CMS) for users.
Relying on their Sitecore expertise, the GeekHive team of .NET developers utilized tools, such as Angular, and built web API technology to maximize the potential of the headless CMS features that the Sitecore CMS offers. The team also developed a custom template engine for Comcast using Angular and JSON technology that could replace the out-of-the-box template builder.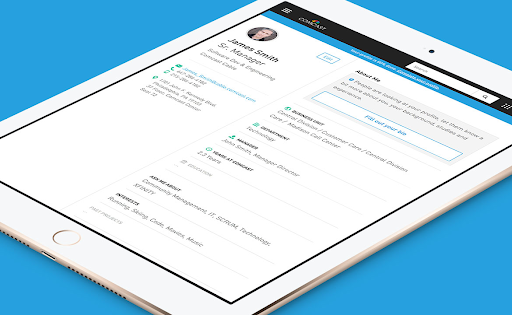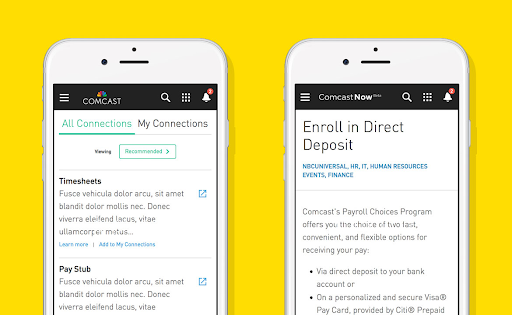 Solution
For an impressive "wow" factor, GeekHive created an easy-to-use interface featuring a flat design and effective animations that gives the intranet the functionality and appearance of a desktop application. This modular design means that each employee can have their own unique homepage, or dashboard, on the intranet that displays personalized news and topics based on their name, role, office location, and interests.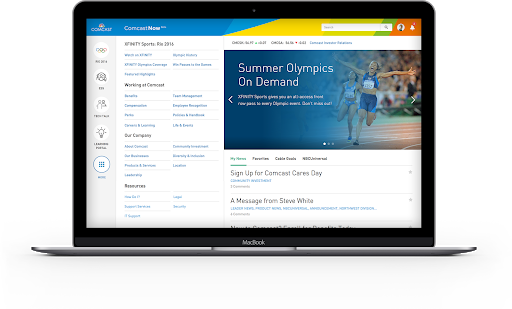 Employees could easily customize their unique homepage according to their individual preferences with access to company information, job-related tools, payroll and expense reporting systems (specific to the respective employee), HR apps, custom dashboard features (ex. regional weather), and personalized news feed content. Thanks to the advanced capabilities of Sitecore CMS, the Comcast intranet even had the intelligence needed to understand the organizational chart of the entire company and provide contextually-relevant information to employees
Results
Agile and Modular Intranet using Sitecore CMS
Personalized Employee Experiences Based on User-Specific Data
Easy Access to Company and Job-Relevant Information
"App Store" Design and Functionality
Improved Employee Engagement