Web Accessibility: Open Your Doors and Close Your Risk
Ensuring accessibility compliance for your digital channels is a critical legal obligation. It also expands your reach to a powerful market.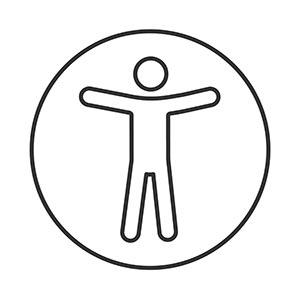 Accessibility in the digital world has a wide range of boxes to tick. Lack of color contrasts, video captioning, descriptive imagery, and non-existent keyboard navigation are the most common issues. Even a lack of information about a business's accessibility standards all can fuel grounds for legal action. 
With a vast multitude of goods, information, and services now available to consumers through various marketing technologies like smartphone apps, portals, and web browsers, accessibility compliance is foundational.
Think about anything beyond shopping that a consumer or employee needs to access quickly:
Credit card statements

Job applications

Company benefits and policies

Emails

Take-out menus

Airline and transportation services like Lyft or Uber
Fortunately, many plug-ins and tools can help examine your website's status. Many CMS platforms like Sitecore have built-in validation tools that allow developers to maintain compliance as they work within sites and apps.
Increasingly, AI-driven and voice recognition algorithms provide real-time solutions for easy coding fixes and captioning. Having your sites and apps audited regularly can identify issues early and often, placing your organization in a much better position should litigation arise.
Where can Accessibility Compliance begin?
Beyond first recognizing accessibility as a given standard, getting complete alignment across your organization to prioritize accessible rich internet applications across all channels and processes is essential. Here are some suggestions to help you get started:
Selecting a platform with full accessibility-compliant functionality serving both the end user and any site admin will make compliance much more straightforward.

For the design process, planning is critical before you even write a single line of code. This WebAIM infographic highlights many essential principles of accessible design.

It's not all about the mouse, which can hamper people with chronic or temporary physical limitations. Access to all site elements – forms, menus, buttons – must happen via a keyboard and its native HTML controls, like the Tab key. Any customization or styles applied to these controls will need to be adjusted.

Creating full descriptive transcripts with context and audio cues as captions for your videos is necessary. 

Adding closed-captioning to your video content also produces SEO benefits since Google and other search engines can more easily read those transcripts to index the content.

Whether using a fancy infographic or an image showing people interacting, adding an alt-text description to selected images delivers the same message via screen reader users. This description is important for images used as links to other content and images that contain information. Decorative images that could confuse a screen reader user and that have no impact on a page's content don't require alt text, however. 

Using CSS to craft your tables is ideal. CSS evades the confusion screen readers sometimes encounter when using tabular data. In other words, you want that table's content to be read in the order in which it is intended. Otherwise, the screen reader is working around the number of rows and columns or other complexities. 
 
Doing the right thing
An estimated 15% of the world's population (or 1 in 5 U.S. adults) live with a disability. Unfortunately, that number is expected to grow due to increased chronic health conditions and an aging population. Also key to remember is that disabilities are not just severe impairments. The WCAG lists ADHD and even age among disabilities. 
Besides being brand loyal, the purchasing power of disabled adults in the United States is nearly $500 billion. It's a win-win for all to open up engagement, business, and customer experience to this market.
Taking action on website accessibility and meeting WCAG compliance might be more manageable than you think. And this applies whether you have existing sites that need auditing or new digital projects to consider.
 
---

Our team can assess, advise, and deliver WCAG compliance before you begin your project. Or we can do a deep-dive into a thorough audit of your current digital channels. 
Use our chatbot or complete this form to speak with our team.