Drupal Development + Digital Strategy
Thanks to our team of open-source technology experts, GeekHive is notably recognized for the one-of-a-kind digital experiences that we create for our client partners. Our developers and marketing technologists apply their specialized skills in open-source web development and digital strategy to build custom Drupal websites that evoke the unique voice of your brand. 
Why Choose Drupal?
As an open-source content management system, Drupal offers the flexible and extensible CMS features that are desired by companies large and small. Whether you are a Fortune 500 company or an aspiring start-up, Drupal can be customized to meet the needs of your organization. You just need the right team to help.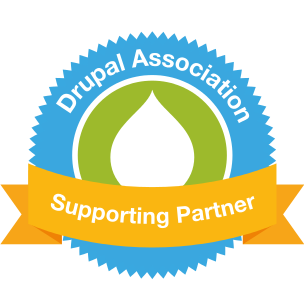 Proud to Be a Drupal Partner
At GeekHive, we take a hands-on approach to ensure that our marketing technology solutions align with the goals and overall success of your organization.
Our development team is proud to be recognized as a Drupal supporting partner and contributing member of the open-source community. We specialize in integrating open-source technology, thanks to our experience and expertise with Drupal software. 
We also partner with DevOps hosting platform, Pantheon, to ensure best-in-class performance, speed and security for your website. The flexible frameworks and endless integration possibilities of open-source technology allow our team to bring our clients' digital visions to life.
Drupal Upgrades & Migrations
Prepare your team now for the future of your Drupal content management system by scheduling a call with our team to setup a roadmap for your organization. Our Drupal  professionals will work together with your team to set priorities, identify milestones, and determine next steps for your journey to Drupal 9.
Find a Partner to Help
Upgrading your Drupal content management system can be a daunting task for even the most experienced marketing professional. Our team at GeekHive is ready to help and will walk your organization through its Drupal upgrade, step-by-step, to ensure a seamless CMS migration. From strategic development and tactics to technical implementation and support, our team covers all aspects of your Drupal content management upgrade to set you on the path for success.
There are exciting developments on the horizon for the Drupal community, with new releases of Drupal 8 and a grand reveal of Drupal 9 planned for this year! However, on the flip side, new releases also mean limited support for earlier Drupal versions (Drupal 6, 7, and 8). In fact, end-of-life dates for Drupal 7 and 8 may arrive as soon as November 2021, which is less than 2 years away!
Drupal 8
Take advantage of the latest Drupal CMS features on the market! Drupal 8 includes faster speed and greater stability, enhanced security benefits, heightened performance, and more! What's more, upgrading from Drupal 7 to Drupal 8 will guarantee a smoother transition to Drupal 9, when your organization is ready to make the leap.
Drupal 9
Drupal 9 is coming in June 2020! Will your organization be ready?
Ready to Upgrade Your Drupal CMS?
Our Drupal Clients