Your customers' experiences depend on personalization that starts with content, that's measured and monitored with data. Plug in marketing technology tools for even more personalization, and you're on your way. But wait -- what about strategy? In this white paper, learn more about how all these pieces fit together to help you connect with your customers and keep them engaged using the technology you have in place right now.
Download Our Whitepaper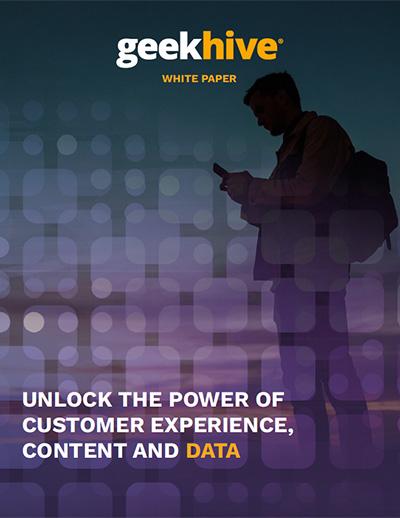 The most successful marketers are not nearsighted when it comes to developing and activating strategies that help them move at the speed of their prospects and customers. They're not taking a narrowed approach (e.g., digital marketing alone) or using a single channel to acquire, convert, and retain customers. Aligning customer experience, content, and data is their secret weapon. It can be yours, as well.
Authored by GeekHive's Chief Strategy Officer, Gene De Libero, this white paper contains keen insights that have formed over a 30-year career as a digital innovator with a passion for leadership, change management, digital transformation, customer experience (CX), digital strategy, digital marketing, marketing technology, and business development/sales.
About GeekHive
We are a Marketing Technology Consultancy focused on helping our clients get more out of their marketing technology investments. We connect your brand, your technology, and your customers through transformative solutions driven by your business objectives.